As we re-imagine our relationships to what we eat, Local Food Report creator Elspeth Hay takes us to the heart of the local food movement to talk with growers, harvesters, processors, cooks, policy makers and visionaries
Taioba Puts Down Its Roots in Martha's Vineyard
Brazilian Taioba at the Ag Fair 2008
Photo by Ali Berlow
Elio Silva of Vineyard Grocer in Vineyard Haven, MA with the first shipment of taioba from UMass Amherst to reach MV, June 2008.
Photo by Ali Berlow
Isaac Silva Isaac Silva on the other side of their dining room taioba winter nursery in Oak Bluffs, MA. April, 2016.
Photo by Ali Berlow
Prepping taioba. A mince or chiffonade works well.
Photo by Ali Berlow
Fatima Silva in their dining room with their taioba, Oak Bluffs, MA, April 2016.
Photo by Ali Berlow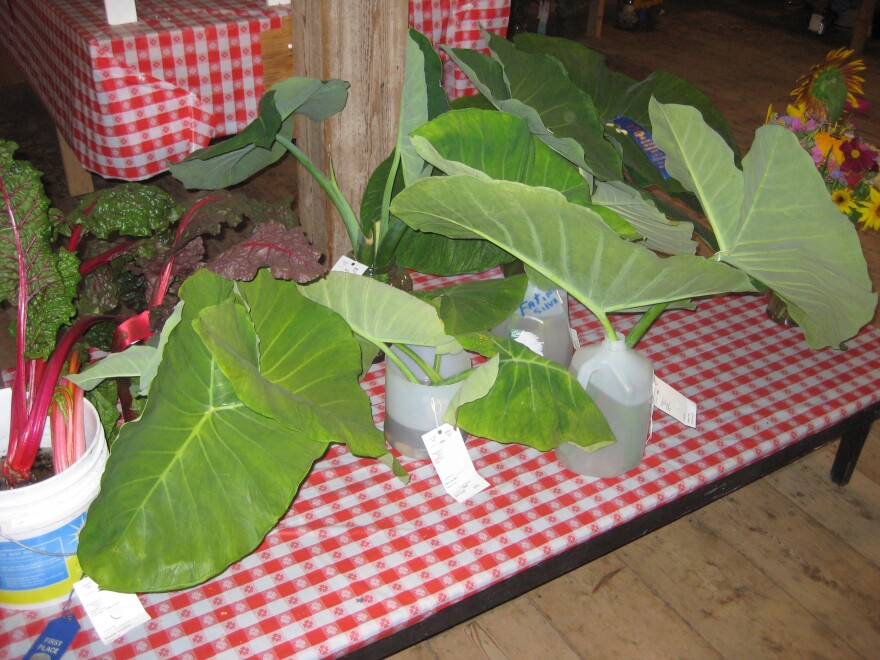 In 2008, a leafy Brazilian vegetable called taioba made its way to Martha's Vineyard, putting down it roots. Even though it's from a tropical climate, taioba can thrive here, if it's taken care of.
In the state where many local Brazilian immigrants come from, Minas Gerais, taioba is a staple, a common side dish to any meal. It is a velvety, cooking green. It's got body and a smooth texture - think collards after a deep tissue massage.
YouTube:
UMass Taioba -- growing and cultivating with Zoraia Barros (Portuguese), uploaded June 12, 2008
Taioba Recipe courtesy of www.WorldFarmers.org in Lancaster, MA:
The taioba is intensely cultivated and consumed in countries in Central America, Africa and Asia. In Brazil, the highest consumption occurs in the states of Bahia, Minas Gerais, Rio de Janeiro and Espirito Santo. Taioba is an excellent source of minerals Fe, P, Ca, K and Mn compared to the traditional sources of these elements.
The leaves are sold in packs and must present shiny dark green color, are turgid and no signs of bruises and no darkened or yellowed areas. Younger leaves, smaller size, are softer and require less cooking time.
1 bunch of taioba
1 tablespoon of oil or olive oil
Salt and pepper to taste
1 clove garlic minced
Minced scallion
1 medium onion, cut into slices
½ lemon
1. Wash well the bunch, leaf by leaf. Cut the leaves into small pieces, between the shafts and wash again.
2. In a saucepan place the oil, salt, garlic and green onions. Light the fire.
3. When it is hot, add the leaves to sauté, uncover the pan for at least a minute and up to about 5 minutes, stirring constantly, or until the leaves are tender.
If desired, add salt and pepper.
4. Bonus round: make a sauce with the slices of onion and lemon juice. Pour this sauce over the taioba after it is ready.