Live Blog: First Winter Storm of 2014
The first winter storm of 2014 is upon us. Our live blog is your one-stop source for all things storm-related. Check back for regular updates.
1/3/2014, 6:10 pm: We're signing off now. Please continue to share your photos, and we'll bring additional storm-related stories as they arise.
1/3/2014, 6:00 pm: Just because flooding and erosion along Cape Cod Bay was less destructive than expected, doesn't mean there was no impact. Erosion came to within 10 feet of some homes along Town Neck Beach. Greg Berman shared photos of several key spots before and after the mid-day high tide. You can find them here.
1/3/2014, 5:43 pm: Yarmouth, Harwich, and Brewster led the snowfall tallies, but Hyannis topped the wind speed listing released by the National Weather Service. While most of the Cape and Islands saw gusts in the neighborhood of 5o mph, the maximum recorded gust in Hyannis was 60 mph.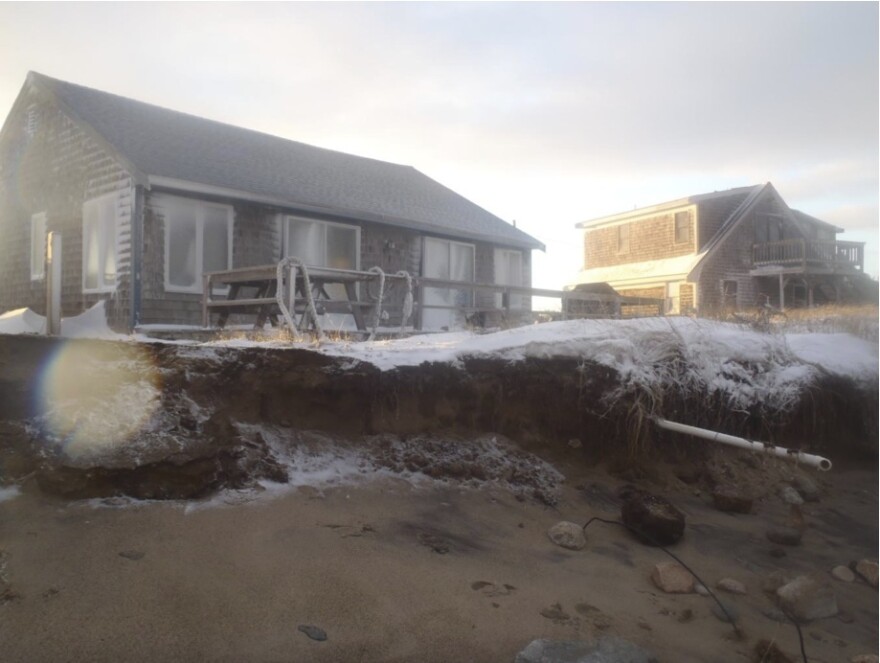 1/3/2014, 5:37 pm: This storm has been blamed for at least a dozen deaths across the country and broke Boston's record for snowfall in a single day, but Governor Patrick said this afternoon that the Commonwealth had weathered the storm relatively well. He said he had not heard of any major storm-related injuries here, and the state was not forced to close roads.
1/3/2014, 5:30 pm: The mid-day high tide caused flooding but less erosion than feared. WCAI's Brian Morris spoke with coastal processes expert Greg Berman:
A last-minute sacrificial dune erected yesterday has been credited, at least in part, with blunting the impact of the storm on Town Neck Beach.
1/3/2014, 4:03 pm: We rang in the new year with a new moon, and not just any new moon – a new supermoon. That's a real term meaning that the moon is at its closest point to the Earth, and directly in line with both Earth and sun. Astrologers considered it an auspicious start to the year, but it's a big factor in concerns about coastal flooding and erosion today. We're also at perihelion, the time each year when Earth is closest to the sun. NOAA has a detailed explanation of how the relative positions of Earth, moon and sun influence tides. The short version is that, in our current configuration, the sun and moon are exerting their maximal pulls and working additively. As a result, today's high tides are the highest we'll see all year. Pile on the water built up in Cape Cod Bay by strong, sustained northeasterly winds, and you have the recipe for, well, today.
1/3/2014, 3:00 pm: WCVB has town-by-town snow totals. Yarmouth, Harwich, and Brewster tied for the top spot on Cape Cod, with an impressive 15 inches. Most of Barnstable County got at least 10 inches, as did Nantucket. Martha's Vineyard clocked in at 8-10 inches.
1/3/2014, 1:35 pm: It seems safe to declare the snowfall over. Here's a quick look at how the scene outside WCAI's studios in Woods Hole changed over the course of 24 hours. Don't forget to send us your photos so we can include them in our photo gallery. And if you're looking for some inspiration to make your snow shoveling or afternoon walk more artistic, check out what artist Simon Beck does with nothing but snow shoes and his brain.
1/3/2014, 11:45 am: Coastal processes expert Greg Berman was out surveying the coastline this morning and reports no major erosion damage yet. The mid-day high tide is really the one to watch, though. The National Weather Service is predicting moderate to major flooding in Sandwich due to a 3 foot storm surge and 7-8 foot waves during the noon high tide. Similarly, a 2 1/2 foot storm surge and 5 foot waves are expected in Nantucket Harbor, and 10-11 foot waves along the eastern side of Nantucket pose a moderate erosion threat.
1/3/2014, 11:15 am: The blizzard warning has officially ended and snow is tapering off in many areas. Now the concern is falling temperatures and dangerous wind chills. You can use this frostbite calculator from Wolfram Alpha to figure out how long it's safe to be outside.
If you are headed out, be sure to follow safety tips for the extreme cold.
1/3/2014, 9:41 am: Ever heard of freezing fog? Meteorologist Frank O'Laughlin says it's a possibility along the coast today. And that's subtly different than ice fog. Learn more about those and other types of fog on NOAA's fog page.
1/3/2014, 9:25 am: What are conditions like where you are? Leave us a note or share a photo. We've started a photo gallery and would love to include your shots.
1/3/2014, 9:12 am: We have updated snow totals from the Barnstable County Emergency Planning Committee.
Brewster - 15 to 16 inches.
Harwich - about 13 inches.
Sandwich - at least 12 inches.
WCAI's Mindy Todd and Sean Corcoran will be talking with meteorologist Frank O'Laughlin and others later this hour on The News Roundup. You can listen live.
1/3/2014, 8:33 am: Here's more on local closures and cancelations:
1/3/2014, 8:24 am: WCAI's Dan Tritle spoke with Josh Balling of the Nantucket Inquirer and Mirror for an update on conditions earlier this morning:
news-0103-0630.mp3
Nantucket conditions dicey
1/3/2014, 8:15 am: Frank O'Laughlin, Barnstable County Regional Emergency Planning Committee meteorologist, urges people to stay off the roads, if at all possible. Blowing snow and low visibility are currently the greatest concerns. There's not much reason to go far from home, frankly. Most schools are closed; state government is closed; Cape Cod National Seashore is closed. That's not a comprehensive list, by any means, just an indication of the widespread closures and cancellations. Ferry, bus, and air service has been suspended at least through mid-day, so check with your service provider if you were planning to travel today.
1/3/2014, 8:10 am: Kevin Morley, public information officer with the Barnstable County Regional Emergency Planning Committee, says that Cape Cod has been lucky so far in the low number of power outages. The county was ready with emergency supplies but has not needed to use them and the emergency shelters have no been activated.
1/3/2014, 7:54 am: Good morning! It's later than planned, but we're back ... The wind is making it difficult to gauge how much snow we've gotten so far, but meteorologist Frank O'Laughlin with the Barnstable County Regional Emergency Planning Committee estimates Cape Cod has seen about 7 to 9 inches of snow. The snow is expected to taper off mid-day, but strong winds continue, causing temperatures with wind chill around 0F. And, of course, the risk of coastal flooding and erosion continues through today's mid-day high tide. NStar and National Grid still reporting less than 100 customers on the Cape, Islands, and South Coast affected by power outages, so that's good news.
==========
1/2/2014, 10:00 pm: This will be the final post of the night. Blogging will resume around 6 am on Friday. If conditions allow, snap a photo of conditions where you are and share it with us on Facebook. We're compiling a photo gallery and would love to include your shots. Finally, we'll leave you with some interesting reading - an explanation and some historical perspective on the extreme cold we're facing, from Andrew Freedman at Climate Central. Stay warm and safe!
1/2/2014, 9:40 pm: The National Weather Service is reporting overcast conditions or light snow, currently, with winds 25-30 mph with gusts to 35-40 mph. NStar and National Grid are still reporting very few outages. Both wind and snow are expected to intensify overnight, with forecasts calling for several inches of snow and dangerous wind chills. The blizzard warning for Barnstable County remains in effect until 11 am, and the coastal flood warning for Nantucket, Cape Cod, and eastern Plymouth County extends through Friday's mid-day high tide. Nantucket seems to be one of few school districts in the region that has not announced Friday closure; check with Cape Cod Times, South Coast Today, or WHDH to confirm the status of classes in your area.
1/2/2014, 7:24 pm: Good point of information I missed in first viewing the press briefing - 211 is the number to call for non-emergency storm questions.
1/2/2014, 6:55 pm: At a 6:15 pm briefing, Governor Patrick announced that the National Weather Service has increased expected snow accumulation amounts for many parts of the state, now calling for up to two feet on the Cape and Islands (although the Blizzard Warning on the National Weather Service website still forecasts 8-12 inches). A state of emergency went into effect for the entire Commonwealth at noon, and the Emergency Management Agency is transitioning to full emergency operation. The National Guard has been activated, and crews totalling more than 3,000 are out on the roadways. State government will be closed tomorrow, and Governor Patrick is urging private employers to follow suit. He also reiterated a travel ban that went into effect at 4pm, urged cooperation with emergency officials, and provided safety tips for the extreme cold expected tomorrow.
1/2/2014, 6:38 pm: Cape Cod Times' video crew took a tour of vulnerable beaches and properties earlier today. Consider this the "before" for storm-caused flooding and erosion:
http://www.youtube.com/watch?v=bA8yz-wR-cA
1/2/2014, 5:35 pm: Coastal flooding and erosion are major concerns in this storm. Greg Berman, Coastal Processes expert for the Barnstable County Extension and the Woods Hole Sea Grant, says the coast along Cape Cod Bay is vulnerable because of the storm's predominant Northeast wind direction. Waves will be battering the shore, pushed along by the three high tides that will come and go over the course of the blizzard. Tomorrow's high tide is already slated to be the highest tide for Cape Cod Bay all year – two and a half feet above normal, even without storm surge. Town Neck Beach in Sandwich, landings in Brewster, and dunes in Dennis could be hit particularly hard. The Outer Cape and Provincetown should expect flooding and erosion, as well.
flood-wrap01022014.mp3
Coastal Processes expert Greg Berman on erosion risk
1/2/2014, 5:22 pm: Add #Hercules and, for those on Nantucket, #ACKHercules to the list of Twitter hashtags now following the storm. Gene Mahon (a.k.a. Mahon About Town, @thenantucketer) is using Storify to gather the best social media posts about the storm's progress on Nantucket. How else are you using social media to stay on top of this storm? Let us know in the comments.
1/2/2014, 4:55 pm: The Weather Channel has a state-by-state rundown of impacts from the storm that some are now calling Hercules, including a video synopsis of the outlook for New England. Snow fall is expected to ramp up through the evening, with a blizzard warning in effect until 11 am Friday. There's growing concern about dangerous conditions later tomorrow as temperatures fall and winds rise. Meteorologist Phil Burt provides more details in his most recent conversation with WCAI's Steve Junker.
storm0102_1600.mp3
Winter storm update, 4pm
1/2/2014, 2:55 pm: More on travel disruptions … Island Airlines has canceled all remaining flights today; Cape Air and Nantucket Air have canceled flights for Thursday and into Friday, with more cancelations and delays expected. Hy-Line Cruises has canceled ferry service between Hyannis and Nantucket through this evening. The Department of Transportation says they have over 2,000 crew members out plowing and treating roads, but urge caution as drivers may encounter snow, slush, and patches of ice on roadways.
1/2/2014, 2:15 pm: State workers will be heading home at 3 pm, and Governor Deval Patrick is urging private businesses to let their employees do the same. Also, Duffy Health Center has announced that it will be closed on Friday. Read more from Cape Cod Times.
1/2/2014, 1:05 pm: The storm is affecting travel around New England. FlightAware.com reports that flights at Boston Logan International Airport are delayed an average of an hour, but Secretary of Transportation Richard Davey emphasized at a press conference that the airport is open and intends to remain so. The Steamship Authority says it expects service disruptions Thursday night and into Friday. Meanwhile, Hy-Line Cruises canceled the noon ferry to Nantucket, and the 1:25 pm boat into Hyannis. Governor Deval Patrick, on his Twitter feed, says Massachusetts Department of Transportation has been pre-treating roads.
1/2/2014, 12:30pm: Check out our Guide to Winter Storm Coverage for ten websites and Twitter feeds to follow throughout the storm.
1/2/2014, noon: Snow is falling around the region, and is expected to do so well into tomorrow. The heaviest snow will come early Friday morning, with forecasts calling for blizzard conditions - snow falling at 1-2 inches per hour and winds gusting as high as 45 mph.
news_noon.mp3
Storm update, Jan. 2 at noon